I - What is Phishing?
One of the most prevalent types of online fraud being used today is called Phishing. Phishing is described as the act of sending an e-mail to a user falsely claiming to be an established legitimate enterprise in an attempt to scam the user into surrendering private information that will be used for identity theft. The e-mail directs the user to visit a website where they are asked to disclose or update personal or financial information, such as passwords or credit card, social security, and bank account numbers that the legitimate organization already has. The website, however, is bogus and is set up solely to gain access to and steal the user's personal information. The British Caribbean Bank Limited firmly believes that the protection of its clients from online fraud, while in part the responsibility of the online user, is to a certain extent dependent on the tools provided by British Caribbean Bank Online to assist its clients in protecting themselves against online fraud.
How to know you're on British Caribbean Bank Online
Clients should also ensure that the website address found on the browser's address bar starts with https to indicate a secure site. In the case of the British Caribbean Bank Limited Online's webpage the address bar should start with https://online.bcbtci.com.

British Caribbean Bank Limited Online webpage will also have a security certificate represented by a padlock icon found at the bottom right corner or on the address bar of the web browser. While implemented differently on each browser the user should be able to access the certificate by left clicking or double clicking on this padlock icon. The British Caribbean Bank's certificate is issued by GeoTrust to online.bcbankinternational.com.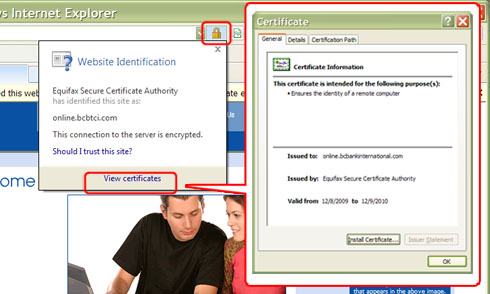 Customers are reminded that they will only receive emails with a link to British Caribbean Bank Online during the initial Account Set Up, for notifications that they have already signed up for e.g. after they request a Password Reset. The British Caribbean Bank Limited will never ask for personal information by email nor will close your account automatically if no response is received. If verification of personal information is ever required, a letter will be sent to the customer via posted mail. This letter will explain to the user what the bank needs and in most cases, the user must visit or contact the bank personally to give the information. In the event that a postal address for a user cannot be located, the bank will contact the individual by telephone and request the needed information in writing.
We thank you for your continued support and we invite any comments or suggestions regarding our online banking site to ensure your banking experience with us remains convenient and secure.
II - How to protect yourself
Tips on how to protect yourself from Phishing Attacks: 
Make sure to install anti-virus and anti-spyware software and keep them updated.

Users should ensure that antivirus software is enabled and spyware scanning is running regularly or configured to scan automatically

Keep your computer updated with the latest Operating System patches.
Keep your browsers updated.

British Caribbean Bank recommends browsers Internet Explorer 7 and Firefox 3.x.

Do not send sensitive information over the Internet before checking a website's authenticity.
Pay attention to the URL of a website. Fraud sites may look identical to the real site, but the URL may use a variation in spelling or a different domain.
Do not click on suspicious links or download questionable files.
Avoid using the same computer for everyday surfing and Online Banking.
Use strong passwords and periodically change them.
Turn off your computer when not in use.
III - What to do if your account is compromised
If you suspect that your account was compromised act immediately. Contact the Bank immediately as indicated below.
If you have any doubts that an email or website is genuine, do not act on its instructions. Instead contact The British Caribbean Bank Online Customer Service Center at 1-649-941-5028 or by email at fraud@bcbtci.com